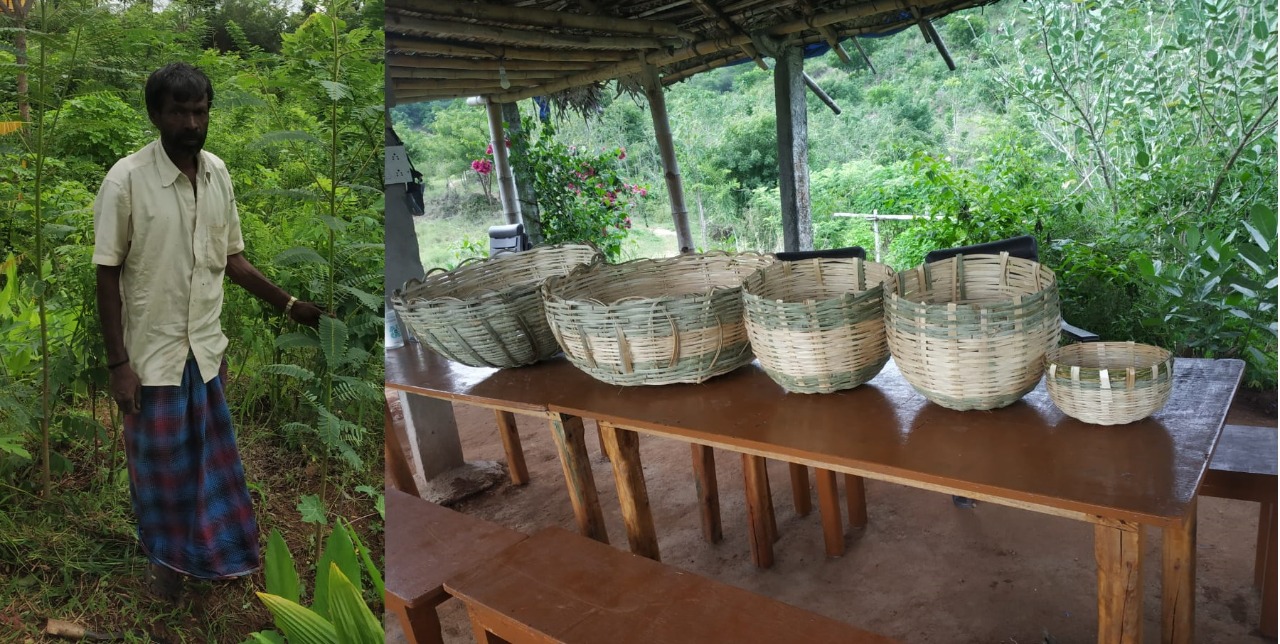 2021: Sep 25 - Traditional Craft of Making Bamboo Basket
The traditional craft of making baskets has been slowly fading away as plastic and other material have replaced them. However, as a community we our attempt has been to move towards more sustainable material. The workshop is a hands on exercise to help the participants get introduced to the craft. You take home the basket that you make.
The workshop will be run by Ramdhas who made a living making baskets but now works in our farm because there is no longer a demand for the baskets.
The following will be the agenda for the day
08:30 - 09:00 Arrival- Welcome, familiarize yourself with the place 
09:00 - 09:30 Breakfast 
09:30 - 10:00 Introduction on Bamboo varieties and uses for the different ones
10:00 - 11:00 Splitting the Bamboo to make sticks
11:00 - 11:30 Break 
11:30 - 01:30 Setting up the base and starting the weaving
01:30 - 02:30 Lunch break 
02:30 - 04:30 Finish up the weaving, tying up the ends 
04:30-05:00 Tea break 
05:00 - Onward Wrap up and leave
The cost is an all inclusive cost. Please carry a sharp knife with you. Also carry your water bottle, a cap, sun-glasses and sun-screen. The hands-on session can be quite laborious and if you are not able to do it yourself, you can choose to watch and learn
What to expect?
TVC is a 100-acre permaculture farm run by 52 families experimenting with a living style that reduces consumption and incorporates naturally supported cyclical systems.
The farm is still in the regeneration phase. The weather is pleasant during Aug - Feb. March to July are hot months, with day temperatures reaching 38+ degrees. The area of the farm is large and has multiple terrains. You should be able to drive up to the entrance of the farm. Access to various parts of the farm is on foot, and you be comfortable with that. We have farm staff staying in the farm quarters and will take care of you while you are at the farm.
We have some amiable dogs with us at the farm. For any reason, if you feel uncomfortable, please inform the farm staff. We have a common food hut/pergola where you can keep your things, have food, etc. It also has charging points for the phone. We usually prepare simple food and are happy to share it with the guests.